TEPCO have already constructed the first Japanese 1,000kV overhead transmission lines to meet the requirement of steadily increasing power supply. We have overcome various kinds of technical difficulties in design and construction primarily caused by extra high voltage operation, the scale of equipment, and geological and climatic condition. This experience has been reflected to the realization of highly reliable and reasonable overhead transmission facilities. Making full use of such a wide range of expertise, TEPCO can provide high quality consultancy services on conceptual design, detailed design, and construction management.
Electric transmission lines pass through a variety of areas. Foundations supporting the conductors and tower are selected properly in accordance with external load, topography and geology. Typical types of foundations are described below. We can evaluate each foundation's bearing capacity.

As the bond part between the tower and foundations requires a reliable load transfer, we have developed the bond method with high reliability in accordance with various types of foundations. The bond capacities between the tower member and the foundation are evaluated by specifying the failure mode through model experiments.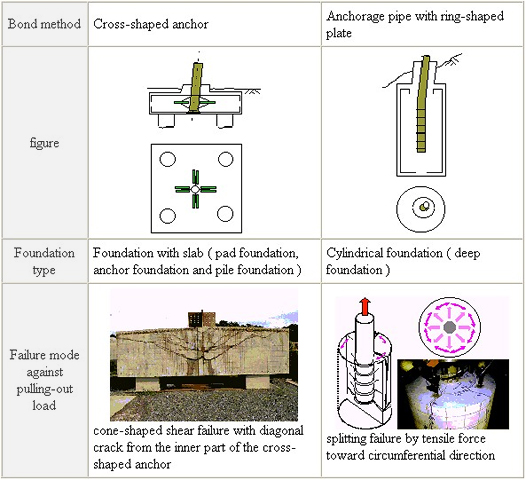 We consider the protection of the natural environment through our re-forestation of the area where plants were initially cut for construction work. The re-forestation is made with native plants, and also can be adopted for special conditions, for example, high altitude or cold climates.
We can offer engineering services mentioned above.