Installation Plan of the Water Treatment Facility
Apr 27, 2011
Tokyo Electric Power Company

■Objectives
Since April 19th we have transferred the high radiation-level accumulated water at the turbine building, etc. to the Centralized Radiation Waste Treatment Facility with the aim of the prevention of the outflow of the water. We will install facilities for processing the water stored at the Centralized Radiation Waste Treatment Facility and reusing the treated water to inject it into the reactors.
■Outline of the facilities
The objectives of the facilities are: to separate oil from the water transferred to Centralized Radiation Waster Treatment Facility; to reduce the radiation level from the water; and to desalinate the water. The facilities are comprised of the Oil Separator, the Treatment System for Radioactive Material and the Seawater Desalination System.
■Schedule
We've almost finished the basic design, and aim to bring the Water Treatment Facility in the power station in the beginning of May, 2011 and to commence the operation in July, 2011. In addition, the tanks for the treated water and for the storage/treatment for the low radiation-level water are currently being installed.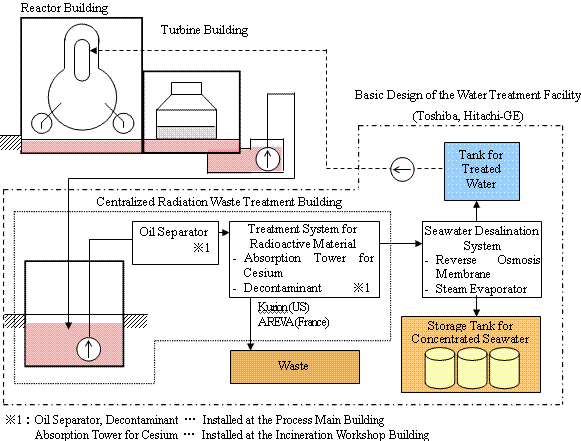 Configuration of the Water Treatment Facility for the Accumulated Water at the
Turbine Building, etc.
End