Press Release (Jul 10, 2017)

Conjoule closes Series A investment from innogy Innovation Hub and TEPCO
Investment of leading international utilities innogy and TEPCO will accelerate the development of Conjoule's peer-to-peer energy trading platform. TEPCO is the first investor in an innogy Innovation Hub venture founded to build the leading decentralised energy marketplace enabled by blockchain technology.
Tokyo and Essen, 10 July 2017. Tokyo Electric Power Company Holdings, Inc. (TEPCO) has closed a €3 million Series A investment in Conjoule GmbH, a start-up developing peer-to-peer energy markets enabled by blockchain technology.
Conjoule is developing a peer-to-peer marketplace for producers and consumers of renewable energy, as well as owners of batteries and other sources of flexibility, to transact with each other without the need for traditional intermediaries. The platform and launch product which allows residential prosumers with solar photovoltaic installed on their homes to sell excess electricity to local consumers are currently being piloted in two German cities.
The Co-Founder and Managing Director of Conjoule, Sam Warburton, is a former employee of the innogy Innovation Hub. With a 20-year record in trading-based energy systems he and his team are ideally placed to develop new products for the decentralised energy world. Using blockchain technology, the Conjoule team are building one of the most exciting technology developments to enable new transactional models in energy.
With this investment Conjoule will continue to grow its technical team and to commercially launch the platform and initial product that have been in pilot during 2017 in selected markets in Europe, as well as to start the development and testing of the next products in Conjoule's product roadmap.
"Conjoule has a clear vision to create tomorrow´s energy system: it´s decentralised, digitised and customer friendly. It follows the idea of the 'sharing economy' where consumers can buy energy directly from their neighbourhood via Conjoule´s platform. Conjoule is another example of the innogy Innovation Hub portfolio where we found and invest in new companies that have the potential of exponential growth in the future." Said Thomas Birr, Senior Vice President Innovation & Business Transformation of innogy SE and leading the innogy Innovation Hub.
"Blockchain technology will redefine what is possible within the energy ecosystem," said Shin-ichiro Kengaku, Managing Executive Officer and Chief of the Global Innovation & Investments at TEPCO. "We look forward to partnering with Conjoule and the innogy Innovation Hub to gain hands-on experience and drive the transformation of the energy industry."

Diagram of the P2P electricity purchasing platform.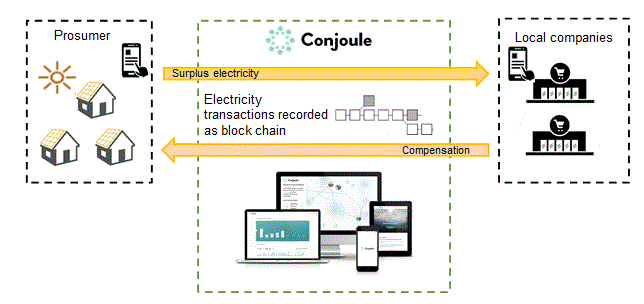 About TEPCO
Tokyo Electric Power Company Holdings, Inc., headquartered in Tokyo, Japan, is the largest utility in Japan serving millions of homes and businesses. Worldwide the company has more than 34 subsidiaries and 32 affiliates in 8 countries and employs approximately 42,060 people. Consolidated revenue for the fiscal year ending March 31, 2017, totalled 5.3 trillion Japanese yen. The company was established in 1951 and is listed on the First Section of the Tokyo Stock Exchange. TEPCO's recent venture capital investments include United Wind Inc., Via Science, Inc. and Moixa Energy Holdings, as well as participation in the Energy Web Foundation. For more information visit http://www.tepco.co.jp/en/
About Conjoule
Conjoule GmbH is a venture capital backed start-up that is building the decentralised energy marketplace of the future where all participants are able to transact electricity and flexibility amongst each other as peers without the need for traditional middlemen.
Conjoule GmbH is building disruptive new digital business models that fundamentally redesign the way that energy market participants interact with each other. The company's first product, which is currently in pilot testing, enables residential solar photovoltaic owners to sell their excess electricity to local consumers on its blockchain-enabled platform. The platform will provide market access for grid edge assets to market energy, capacity and flexibility.
One of the world's leading utilities is innogy with its Innovation Hub. For more information visit http://www.conjoule.de
About innogy SE and The innogy Innovation Hub
The innogy Innovation Hub is part of innogy SE, Germany's leading energy company, with revenues of around €44 billion (2016), 23 million customers, more than 40,000 employees and activities in 16 countries across Europe. With its three business segments Grid & Infrastructure, Retail and Renewables, innogy addresses the requirements of a modern, decarbonised, decentralised and digital energy world.
For more information visit http://www.innogy.com/en
At the innogy innovation Hub they are committed to drive gaming-changing ideas to evolve an innovation portfolio for innogy. Their purpose is to build, found or invest in new companies that have the potential of exponential growth in the future, with the innogy Innovation Hub as partner of choice. They focus on 'Machine Economy', 'Urban Exponentials', 'Smart & Connected', 'Disruptive Digital' and 'Big Data'. Get more insights here: https://innovationhub.innogy.com/