Increasing transparency of business operations
TEPCO actively discloses information on business activities and plant operations to all stakeholders via TV commercials, websites, pamphlets, and other such means, to increase the transparency of business operations.
Timely and proper disclosure of corporate activity information
We provide information on daily business activities of the TEPCO Group to the media via press releases and press conferences. The information is also posted on our website to ensure prompt and accurate information disclosure.
Types of information to be disclosed
Website
Cell-phone site
Publicity and public relations activities using mass media
We make active use of TV/radio commercials, newspaper advertisements, and other mass media to provide a wide range of information to society, including useful consumer information, such as tips on efficient uses of electric products, and our initiatives toward realizing a low-carbon society.
TV commercial: Denko-chan "singing" series
TV commercial: "Switch!" information series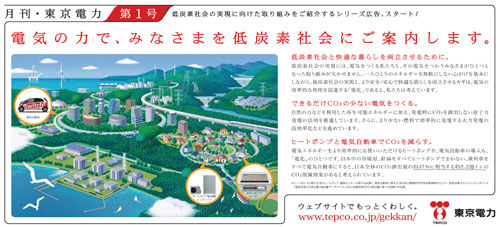 Newspaper advertisement: "Monthly TEPCO"
TEPCO Electric Power Museum: A PR center full of information
The TEPCO Electric Power Museum, located in Shibuya, Tokyo, is a showcase of information on electricity, such as the mechanism of power generation and the benefits of fully-electrified homes to comfortable living.
As a comprehensive public relations center, the museum allows visitors to gain first-hand knowledge and "experience" electricity by observing and interacting with the displays in an enjoyable manner. It also holds various events every month.
In March 2011, it will open anew as a community space designed toward realizing a low-carbon society.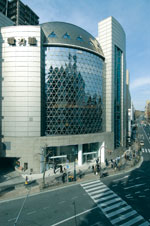 TEPCO Electric Power Museum
Commencement of a power outage information service via website
Up to now, we have been providing information on power outages in response to individual inquiries from customers and the press. In the case of wide-area outages caused by typhoons or other disasters, we provide information via press releases and our website in consideration of the large social impact of such outages. However, to more widely disclose real-time information, we have launched a power outage information service on our website in May 2010.
Immediately after the occurrence of a power outage, the system provides information on the date and time of the outage, affected regions, affected number of homes, recovery status, and the outlook for recovery.
Image of the power outage information service page on our website
Disclosure of nuclear power station information
TEPCO strives to earn the trust and confidence of local residents in communities that are home to its nuclear power station, as well as of the wider society, by disclosing information on various aspects of its station in a prompt and easy-to-understand manner.
Active disclosure of information
As part of our active effort to disclose information about our nuclear power station, we convey real-time information on the operational status of our power station via website, and provide information on daily safety and quality assurance activities implemented at the station, through newspaper advertisements and periodic PR magazines intended for local residents.
We also provide free access to information about nuclear power generation at our nuclear power information centers located in the communities of each of our nuclear power station.
Service hall in a nuclear power station
Public relations magazines
Monitoring of radiation and radioactive substances
Radiation levels and the concentration of radioactive substances released to the environment are closely monitored in each nuclear power plant. Monitoring posts that monitor atmospheric radiation around the clock are installed in the perimeter of power station, and data acquired from them are posted on our website in real time.
Furthermore, seawater, soil, and agricultural products from around our nuclear power station are regularly sampled to measure the amount of radioactive substances they contain and examine any impacts that nuclear operations may have on the surrounding environment. The findings are reported to the local government and also widely disclosed to the public.
Real-time radiation data posted on the TEPCO website
Measuring radioactive substances in agricultural products
Disclosure of nonconformity events
Information on nonconformities that occur at nuclear power station, including troubles and failures, is disclosed to the public via press releases and our website, based on TEPCO Information Disclosure Criteria (disclosure standards). The standards require nuclear power station to disclose and provide updates of serious nonconformities that are legally required to be reported, minor nonconformities not subject to reporting under the law, and daily maintenance information.
Nonconformity disclosure criteria
Disclosure category
Types of incidents and specific examples
Disclosure method (press release, website, etc.)
Number of incidents reported in FY2009
1
Serious cases, including those subject to reporting under the law e.g.:

Unplanned shutdown of a nuclear reactor
Occurrence of a fire, etc.

Disclose by means of a press release or via website, regardless of the time of day or whether the day is a holiday or weekend
6
2
Minor problems not subject to reporting under the law e.g.:

Minor malfunction of an important safety device, etc.
Discovery of foreign matter in the reactor or spent fuel pool

Disclose by means of a press release or via website, regardless of whether the day is a holiday or weekend. If the incident occurs at night, the incident will be disclosed the next morning after making necessary preparations.
10
3
Incidents to be disclosed from the perspective of securing trust e.g.:

Equipment failure that has no direct impact on the safety or operations of the nuclear reactor
Injury that has occurred onsite at a power station

Keep daily (weekday) track of such incidents and disclose them via the website of the nuclear power station or by other means, and inform the press that new information has been posted on the website.
68
Other
Nonconformities other than the above e.g.:

Minor daily repairs, etc.

Regularly disclose via website. Provide details to the press at a regular press conference.
About 8,800
Reports on the state of the Kashiwazaki Nuclear Power Station
Restoration work is still ongoing at the Kashiwazaki-Kariwa Nuclear Power Station, which suffered damage in the Niigata-Chuetsu-Oki Earthquake of July 16, 2007.
Updates on the progress of restoration are widely released to the public by means of TV commercials, press releases and periodic PR magazines intended for local residents.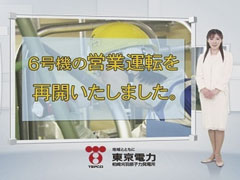 TV commercial: "News Atom"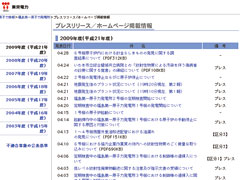 Press releases posted on the TEPCO website
---