Video: "The current situation at Fukushima Daiichi NPS" -From 3.11 toward the future- (ver, Jan. 2018)
Fukushima Daiichi Nuclear Power Station was attacked by a huge tsunami caused by Tohoku Pacific Ocean earthquake on March 11 2011.

We would like to show you the latest situation of Fukushima Daiichi, looking back the time of the accident.
Video: Installation of the fuel handling machine and the crane for the spent fuel removal is completed at Fukushima Daiichi NPS Unit 3
[TEPCO HEADLINE] Installation of the spent fuel removal cover dome roof at Unit 3 is in progress. TEPCO's experts explain the current situation.
Video: An unprecedented challenge: Developing the "Scorpion-shaped robot"
In a collaborative effort, TEPCO, Toshiba, and IRID developed a "Scorpion-shaped robot" to investigate conditions of the melted-down fuel debris and the Unit 2 Primary Containment Vessel (PCV) at Fukushima Daiichi Nuclear Power Station. It would be a significant step forward in the decommissioning work to obtain any information from the PCV, such as digital images, temperature data, and radiation levels. This video introduces the challenges for this robot as well as the commitment of Toshiba engineer Takayuki Nakahara who deals with this very challenging mission.
Video: Dismantling of Unit 1 cover panels for spent fuel removal at Fukushima Daiichi Nuclear Power Station
This video shows various measures against dust dispersion during the dismantling work of cover panels over Unit 1 reactor building. At Unit 1, rubble from the damaged building caused by the hydrogen explosion is still scattered and needs to be removed. Cover panels were placed over the rubble to prevent the dispersion of radioactive materials, but dismantling of the panels started in July 2015 to remove the rubble. Wall pannels will be taken down around September 2016.
Video: Preventing Recriticality in Fuel Debris
at Fukushima Daiichi Nuclear Power Station
This video will explain the conditions of the fuel retained in the reactors of Units 1-3 at Fukushima Daiichi Nuclear Power Station, and TEPCO's measures to prevent recriticality-return to a point at which a nuclear reaction becomes self-sustaining- in the fuel debris there.
Application of Robot Technology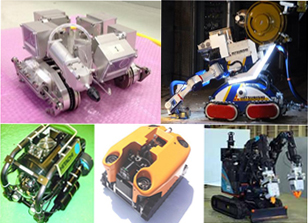 We have created a new web content featuring ROBOTS applied to decommissioning operations. This page introduces robot applications inside the reactor buildings, which have been disclosed chronologically in our web site, with pictures, videos, and documents.

With support and cooperation of both domestic and international corporations and organizations, robots has been applied to the operations, such as the decontamination of the high-dose radiation area and the removal of fuel debris, and contributed to the reduction of operational risk of radiation exposure.
See more on Robot Applications
Fukushima Daiichi NPS Prompt Report