Promotion of CSR procurement in collaboration with business partners
TEPCO's Basic Policy on Procurement sets forth basic rules by which TEPCO should purchase materials from suppliers, and also contains TEPCO's requests of its business partners. We will strictly abide by this policy, to ensure proper CSR performance in procurement, while further strengthening legal compliance and safety awareness in collaboration with our business partners.
Basic Policy on Procurement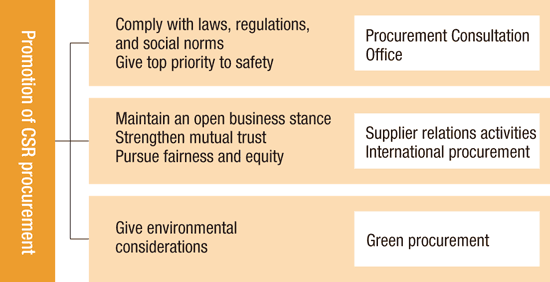 Promoting CSR procurement
When changes occur in laws and commercial practices, TEPCO accordingly reflects those changes in its transactions with business partners. We revise the terms of order contracts, as well as the content of contracts and confirmation documents, and request our business partners to also comply with those changes.
In November 2006, we included fundamental principles of the international community (prohibition of child labor, prevention of forced labor, etc.) in our contracts with business suppliers, and clarified provisions concerning confidentiality of trade secrets and personal information. We also corrected some one-sided provisions, for instance by stipulating that both TEPCO and business partners have the mutual right to initiate changes to the terms of a contract. Furthermore, we intend to redouble our efforts to ensure and maintain proper transactions, by implementing various activities to verify the appropriateness of the cost base and transparency in our transactions with business partners.
We will continue upgrading our activities so that we may further promote CSR procurement based on our Basic Policy on Procurement, with the understanding and cooperation of our business partners.
Procurement Advice Center
At the Procurement Advice Center (established in January 2003), staff members, who are independent of any departments that handle contracts, process problems, opinions, and requests from our business partners concerning their transaction with TEPCO.
By investigating issues and seeking improvement from a neutral standpoint, the advice center helps maintain relationships of mutual trust and ensures the transparency of procurement transactions.
Expansion of supplier relations activities
As part of our supplier relations activities, we disclose our business plans and information on material orders (basic procurement policies, procedures, plans, etc.) on our website, and hold a procurement guidance seminar every April as a forum for engaging in direct communications with our business partners. In FY2010, representatives from approximately 400 partner companies attended the seminar.
We also hold regular small meetings with our business partners in specific procurement areas, such as the thermal power, nuclear power, power transmission, and power transformation areas, to exchange views and information on procurement issues.
Ninth Procurement Guidance Seminar
Green procurement
We have been promoting green procurement since 2001.
We established green procurement guidelines that seek 100% green procurement of office supplies, a target that is being achieved steadily by many business units.
Moreover, in the process of procuring power facility equipment, we adopt proposals that reduce environmental burden, and promote environmental awareness in our 400 or so major business partners by requesting them to evaluate the status of their EMS (environmental management system) every two years by means of an original EMS checklist.
Recycling and reusing equipment and resources
To contribute to a recycle-oriented society, we are expanding the reuse of power distribution equipment by reviewing their recycling criteria, and are working in cooperation with our business partners to recycle copper and aluminum cable scraps and to develop and adopt economically efficient products.
---