TEPCO Nature School, a forum for communication with nature
TEPCO Nature School was established in April 2008 under the slogan, "Let us pass on abundant nature and nurturing spirits to the next generation." It brings together the various environmental communication activities which TEPCO has been implementing through the years, including nature observation events in the green areas of power plants and voluntary beech tree-planting activities in the Oze-Tokura Forest.
To steadily continue with these activities, the school also directs its focus on the development of internal human resources, and receives advice and guidance from an Advisory Committee composed of outside biology experts and educators.
Wildlife experience event for children and parents
TEPCO's power plants are surrounded by abundant greenery that fosters biodiversity. In addition to offering tours of power plant facilities, we focused our attention on the verdant environment surrounding those facilities and began sponsoring nature observation events in 1993, providing programs that match the seasons and opportunities for children and their parents to interact with nature.
At the Hitachinaka Thermal Power Station, TEPCO Nature School held a wildlife experience event for children and parents, in collaboration with Tokyo Electric Power Environmental Engineering Co., Inc., a member of the TEPCO Group. Prior to schools letting out, a group of 63 eager children and their parents (27 adults, 36 children) experienced the wonders of nature and wildlife.
Program

Capturing and observing wildlife (aquatic organisms and grasshoppers)
Nighttime nature observation (including observation of fireflies)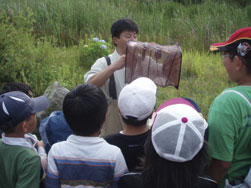 Wildlife experience for children and parents
The TEPCO Nature School logo
The shape of the logo symbolizes the sun's rays and the letter "E" for Earth, Energy, and Ecology. The colors represent the heat of the sun (red), clean water and air (blue), a verdant forest (green), and the earth (brown). Each of these elements is the source of TEPCO Nature School's activities.
Facility and nature tour at Marunuma Dam
At Marunuma Dam, TEPCO Nature School provided a tour of the dam's facilities and the lush forest around the dam, in collaboration with Oze Corporation, a member of the TEPCO Group. The civil structure is designated an important cultural property, in recognition of its historical value.
A group of 27 participants, ranging in age from their 30s to 70s, learned about the mechanism of power generation and the dam's structure, and strolled along a lakeside nature trail, making brief stops to study the diverse species of massive trees in the area, which support the abundant water of the dam.
Program

Observation of chestnuts
The gradation of autumn leaves and its mechanism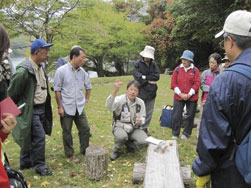 Facility and nature tour at Marunuma Dam
Development of internal human resources
At TEPCO, we also offer human resource training programs aimed at encouraging employees to widely participate in TEPCO Nature School activities. Employees who qualify as Nature Experience Leaders* through these programs assume leadership roles in nature observation events and other environmental events held at our various power plants.
*Nature Experience Leaders
A private qualification given to those who complete a training curriculum designated by the NPO Council for Outdoor and Nature Experiences (CONE)
Initiatives for promoting interest in the environment
TEPCO strives to promote interest in the environment across all generations of people through various initiatives.
Support for environment and energy education
To increase awareness of environmental issues across all generations, we offer environment and energy workshops for teachers and environment and energy courses for children. We will continue to promote effective environment and energy education as appropriate to the local characteristics of each region, in close cooperation with people who are in the position to educate the next generation.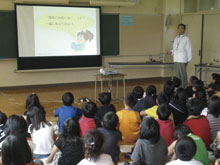 Environment and energy course for children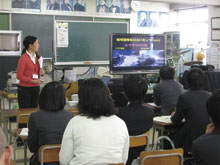 Environment and energy workshop for teachers
Participants in FY2009 environment and energy courses
37,998
elementary school students
9,602
junior high school students
1,009
high school students
Participants in FY2009 environment and energy workshops
2,232 teachers and educators
National Environment Contest for University Students (Eco Contest)
Since 2003, we have sponsored the National Environment Contest, otherwise known as "Eco Contest," in support of the environmental initiatives of university students. Since university students have few opportunities to introduce their environmental initiatives to society, the contest provides a forum where they may present their activities to a panel of judges composed of environmental experts (members from academic, governmental offices, private companies, NPOs, etc.), students from throughout Japan, and the general audience, who evaluate each entry and select a winner according to a public screening process. In FY2009, approximately 1,300 students from 58 organizations participated in the contest.
To the university students, the contest is an ideal opportunity for them to review their own environmental activities and to obtain hints for new initiatives from the ideas and know-how of the other participants. To TEPCO, it is an ideal means for promoting student-led environmental activities throughout Japan and contributing to creating a better society.
Disseminating and raising awareness of eco-conscious behavior
In January 2008, Chiyoda Ward adopted an ordinance to mitigate global warming, and established a CO2 emission reduction target, as the first to do so among the 23 wards of Tokyo. It is also working to disseminate and raise awareness of the Chiyoda Eco System (CES), a scheme for promoting eco-conscious behavior among the ward's population, including those who commute to work or school in the ward, through the CES Promotion Association.
As a member of Chiyoda Ward, TEPCO's Ginza Branch Office took part in establishing the association, and shares in the efforts to promote eco-conscious behavior among all individuals, by cooperating in holding environmental lectures and exhibitions, recommending the use of personal chopsticks and eco lunch bags, and organizing cleanup events.
Symposium
Making personal chopsticks and eco bags
"Naturing Festa – Enjoy Nature in Matsumoto"
Every year, TEPCO employees volunteer as operating staff members of "Naturing Festa – Enjoy Nature in Matsumoto," an event sponsored by Matsumoto City, Nagano Prefecture and held at a TEPCO-owned site.
The event provides children an opportunity to interact with nature while having fun. It inspires them to think about "preserving nature" and "the mutual significance of nature and environmental protection" through various programs, such as the CO2 Diet Declaration program and woodworking classes using driftwoods from dams.
We will continue to take part in running the event and interacting with visitors through these programs, with the goal of nurturing the hearts and minds of children who will lead our future.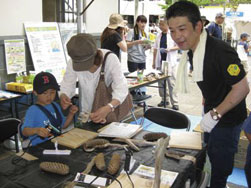 Naturing Festa
---