Environment
We are committed to the implementation of decontamination activities including the removal of rubble, and the management of the contamination status through radiation measurement, and reduction, in cooperation with concerned ministries and agencies to restore the environment damaged by the accident as quickly as possible, never wasting a single day.
We have set a goal to reduce the effect of radiation through radioactive waste (rubble and secondary waste from water treatment, etc.) produced after the accident and additional radiation released from the power station as a whole, to keep the effective radiation dose at site boundaries below 1mSv/year. In addition, we are continuously monitoring radiation within the premises and neighboring ocean via sampling etc. to prevent contamination from spreading further. With regard to the radiation dose outside the premises, we are confirming the contamination status and conducting decontamination under the leadership of governmental organizations.
Monitoring and decontamination
Monitoring
The Cabinet Office and the Ministry of Education, Culture, Sports, Science and Technology have released a detailed monitoring implementation plan for caution zones and planned evacuation zones, and carried out a radiation survey to grasp the extent of contamination (basic data collection and broad-area monitoring), a detailed survey for spaces, forests, buildings, and rivers (individual detailed monitoring), and a survey towards developing a decontamination implementation plan for the areas where the government takes charge of its implementation (detailed monitoring).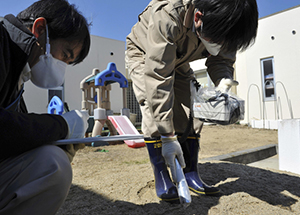 Decontamination
Decontamination work is proceeding in accordance with the "Act on Special Measures Concerning the Handling of Radioactive Pollution" that specifies the actions to be taken by the government, local public authorities, and related atomic energy companies. This law was created for the purpose of reducing the effect of environmental contamination on human health and daily life and was issued on August 30, 2011 with partial enforcement, which was followed by full enforcement on January 1, 2012. (We are addressing decontamination together with the government and local authorities by sending our employees to the experts dispatch business that is supporting the decontamination model demonstration project implemented by the government and the establishment of the respective decontamination plans of local authorities).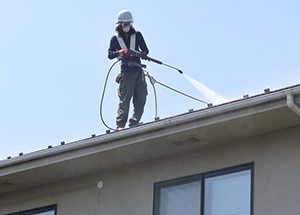 Research and information regarding radiation by related Japanese ministries and agencies
Ministry of Agriculture, Forestry and Fisheries

The Great East Japan Earthquake

Ministry of the Environment

Off-site Decontamination Measures