Technology & Knowledge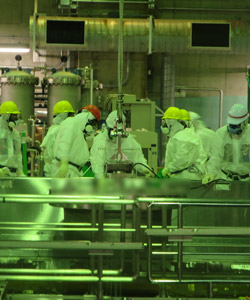 Gathering wisdom form various research institutes and companies inside and outside Japan, we are making the utmost efforts in the decommissioning operation, which is the first of its kind in the world. In addition, by leveraging the technologies and knowledge gained from such experience in variety of areas throughout the world, we will ensure that the lessons learned from the accident continue to provide benefit in the future.
Decommissioning work is accompanied with a number of difficulties and complicated tasks. We are introducing proactively the latest technologies in the world, such as robots and remote-controlled devices, and steadily moving ahead with the decommissioning plan.
Specific examples of performance

Investigation of locations of leakage in primary containment vessel. Investigation of the area around the bottom part of the vent pipe of Unit 2(8 vent pipes in total) using a four legged walking robot.

Investigation of the existence of water leakage and the exterior appearance of vent pipe and sand cushion drain pipe with images from a camera installed in floating boat.
(Photo:Hitachi-GE Nuclear Energy, Ltd.)