Openness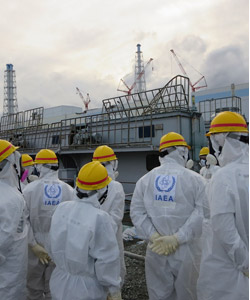 We will perform the decommissioning work seeking the understanding of the international community by ensuring sufficient openness, reflecting the advice and guidance given by international organizations and external experts.
Openness is the key to restoring public trust
While proactively accepting reviews by the IAEA expert team, Tokyo Electric Power Co. (TEPCO) is also addressing decommissioning, inviting various experts to work together to resolve the problems caused by the accident at Fukushima Daiichi Nuclear Power Station, with the highest priority on safety.
In addition, with regard to the future operation and risk management of the nuclear power station, high level advisors from around the world are observing and offering guidance.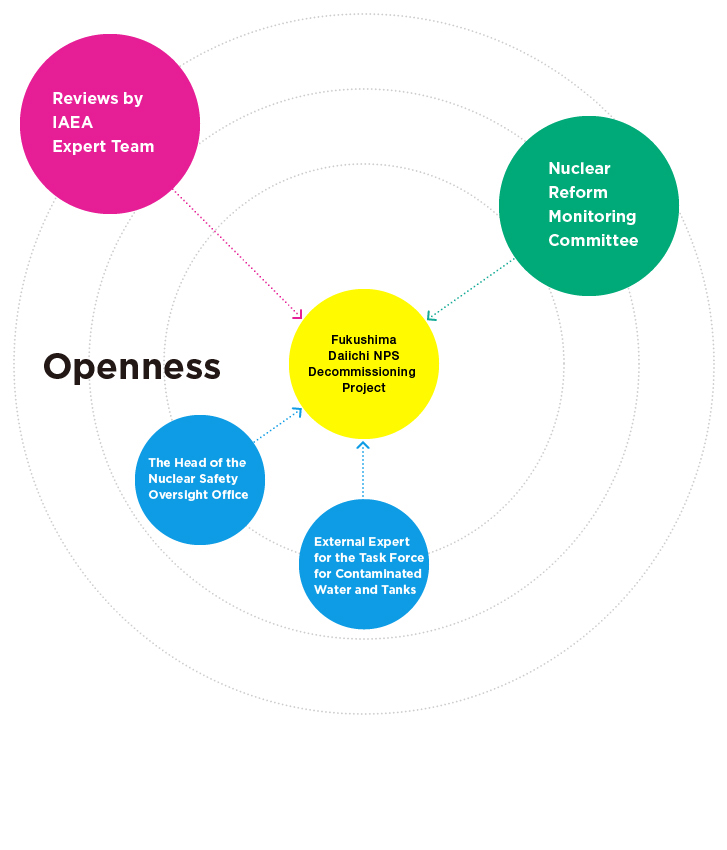 IAEA Review Missions:
IAEA Review Missions: At Japan's request, the IAEA has organized teams of international experts to review the progress of decommissioning work at TEPCO's Fukushima Daiichi Nuclear Power Station and other issues related to the nuclear accident.
Following each of these reviews, the IAEA has delivered a report to the Japanese government that includes acknowledgements of good practices and suggestions for continued improvement.
Nuclear Reform Monitoring Committee:
This Committee was established in September 2012 as an advisory body to the Board of Directors of TEPCO. The members are comprised of those who are highly respected in the nuclear power field. They are monitoring and supervising the nuclear reform activities from an external viewpoint.
Dr. Dale Klein


Chairman

Former Chairman of the US Nuclear Regulatory Commission (NRC)

Lady Barbara Judge CBE


Deputy Chairman

Chairman Emeritus of the United Kingdom Atomic Energy Authority

Mr. Masafumi Sakurai


Committee Member

Former member of the National Diet of the Japan Fukushima Nuclear Accident Independent Investigation Commission
External Expert for the Task Force for Contaminated Water and Tanks:
Mr. Lake Barrett was appointed in August 2013 as an external expert to give advice on the efforts of the Task Force for Contaminated Water and Tanks.
Lake Barrett

Formerly with the U.S. Nuclear Regulatory Commission (NRC) and United States Department of Energy (DOE)
The Head of the Nuclear Safety Oversight Office:
Dr. John Crofts was appointed to the position in May 2013, to supervise and support directly the president and nuclear power departments in the inculcation of safety awareness and operating processes, as well as activities for fostering safety culture.
John Crofts

Former Director in charge of security assurance of the UK Atomic Energy Authority (UKAEA)