[Reference] Present state of the global warming issue
The current of international affairs
Global CO2 emissions have continued to increase mainly in emerging countries such as China and India, but the current Kyoto Protocol specifies emission reduction targets up to 2012 for developed countries only. For this reason, the "post-Kyoto" framework should include all major emitters in order to become more effective. The 15th Conference of Parties to the Framework Convention on Climate Change (COP15) was held at the end of 2009, and although no agreement on the post-Kyoto framework was reached, approximately 30 developed and developing countries adopted the Copenhagen Accord*. Widespread attention will continue to focus on further debates concerning the next framework.
* Copenhagen Accord
An agreement on the major principles and direction of the post-Kyoto framework, including emission reduction targets of developed countries and emission reduction actions by developing countries. 137 countries have expressed their intention to associate themselves with the accord as of August 6, 2010.
Global CO2 emission forecast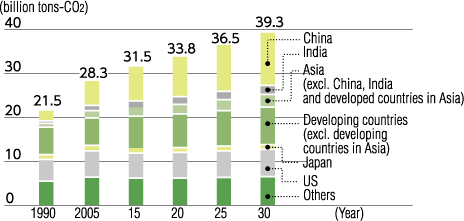 Source: 1990 data from EIA, "International Energy Outlook 2009"
Data for other years from EIA, "International Energy Outlook 2010"
Japan's greenhouse gas emissions totaled 1,282 million tons in FY2008, and exceeded base-year emission levels*1 under the Kyoto Protocol by 1.6%. In September 2009, then-Prime Minister Yukio Hatoyama announced Japan's medium-term reduction target*2 for 2020 at the United Nations Summit on Climate Change.
* Base years under the Kyoto Protocol
CO2, CH4, N2O: 1990
HFCs, PFCs, SF6: 1995
* Medium-term target
Target to reduce Japan's greenhouse gas emissions by 25% by 2020 compared to the 1990 level, premised on the establishment of a fair and effective international framework in which all major economies participate and on their agreement to ambitious targets. It does not specify the breakdown of the 25% reduction (domestic countermeasures, purchase of carbon credits from foreign countries, etc.).
Japan's greenhouse gas emissions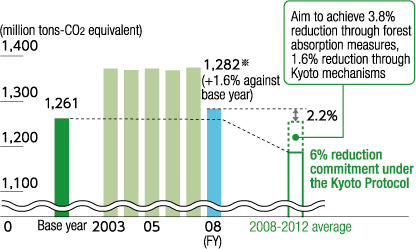 *Does not factor in forest absorption measures and the Kyoto mechanism of carbon credits.
Source: Based on press releases issued by the Ministry of the Environment