Pursuing the Optimization of Value Chains to Take a Leading Position in the World
The fuel and thermal power generation business of TEPCO Fuel & Power is roughly divided into four groups: domestic power generation, overseas power generation, fuel procurement, and transportation/trading. Of these, the core business is domestic power generation. Due to decreased power demand in Japan and the emergence of renewable energies, it is obvious that growth will stagnate if we rely on the domestic market alone.
In response to the changing times, we took the opportunity presented by our transition to a holding company system to set two pioneering and challenging goals.
Promotion of Alliances (Promotion of Globalization)
Establishment of JERA
TEPCO and Chubu Electric Power jointly established JERA Co., Inc. to achieve a comprehensive alliance covering the entire energy supply chain from fuel upstream and procurement to fuel operation, optimization of trading and thermal power station operation, and power generation. Since the integration of the existing thermal power business operations, JERA has been promoting efforts such as "strengthening of competitiveness in the domestic power generation business" and "increasing profitability in new business areas and achieving synergies with JERA's existing business projects." The aim is to achieve the integration effect of more than 100 billion yen per year within five years from the integration.
Value-up Project (Improving Power Station Productivity)
Operational reforms of power stations
Shortened periodic inspections
Detection of signs of abnormality to prevent trouble
Establishment of our own operation method to achieve efficient and optimized operation, maintenance and general management activities
Establishment of strategies to increase overseas profitability
Study of a new business model for operation and maintenance (use of big data related to power generation facilities)
Provision of expertise to overseas power stations
Enhancement of the organization and intelligence
Study of a new business model for operation and maintenance (use of big data related to power generation facilities)
Provision of expertise to overseas power stations
Our Latest Power Station
LNG-Fired Thermal Power Generation System with the Highest Level of Efficiency in the World (MACC-II)
Short-term, medium-term, and long-term measures are being taken for facilities in order to improve the thermal efficiency and operation rate at thermal power stations. As a short-term measure, we started the commercial operation of Kawasaki Thermal Power Station Group 2, Units 2 and 3 (output: 0.71 million kW each), which are economically superior, state-of-the-art, high-efficiency LNG-fired thermal power generation facilities (MACC-II).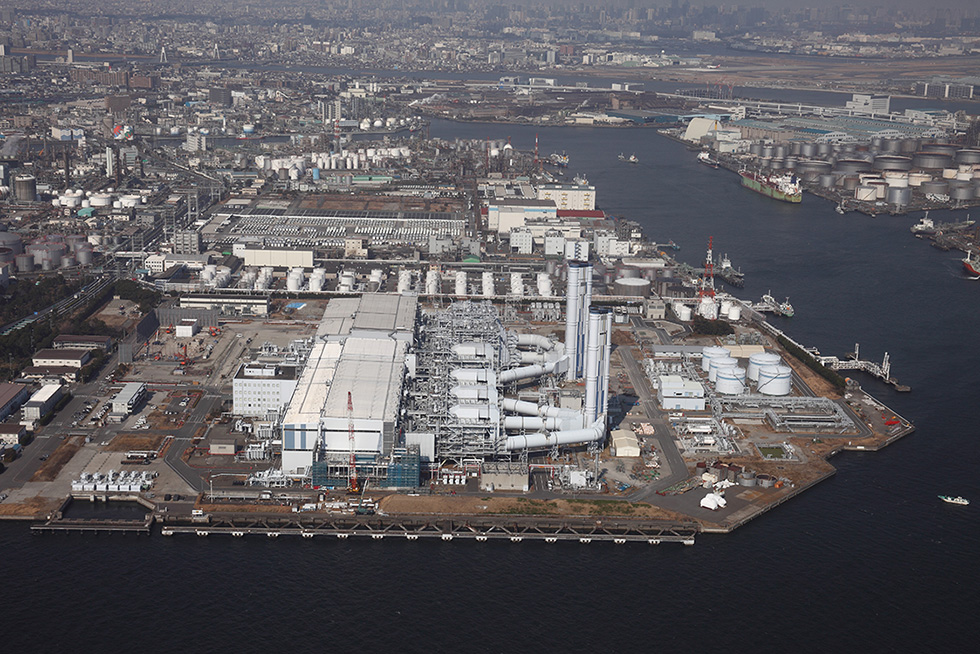 Eco-Friendly and Highly Efficient Integrated Coal Gasification Combined Cycle (IGCC) Power Generation System
In January 2014, we launched a project to develop state-of-the-art coal-fired thermal power stations.
The goal of this project is to build and operate a 500,000-kW facility that uses the integrated coal gasification combined cycle (IGCC) and includes technologies developed to increase output and improve efficiency so as to utilize coal in a more sophisticated manner. The facility is to be built either on the premises of the Hirono Thermal Power Station operated by TEPCO Fuel & Power, Incorporated or next to Nakoso Power Station operated by Joban Joint Power Co., Ltd.
The IGCC is a system that gasifies coal and then utilizes the purified clean gas in a combined cycle to generate power. Compared to the conventional coal-fired thermal power stations, this system boasts better power generation efficiency and reduces the amount of carbon dioxide and soot/smoke emissions relative to the amount of power generated. Among its other advantages, this system allows us to utilize low-grade coal, which has a low ash melting point and is not suitable for the conventional coal-fired thermal power stations.
Related information: About IGCC
Overseas Consulting Case Studies